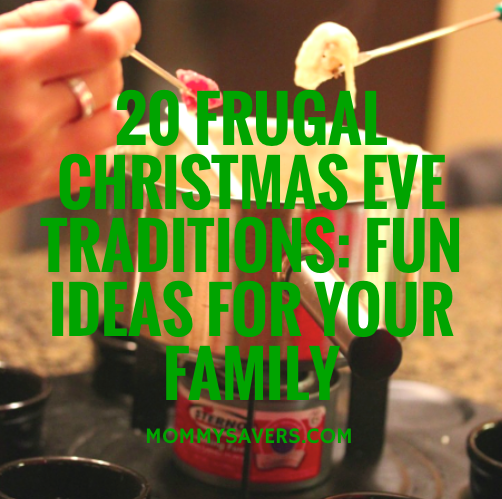 Does your family have Christmas dinner on Christmas Eve or Christmas Day? Sometimes having a family of your own means creating and having your own traditions that are different from those of your childhood. Here are some fun family ideas for Christmas Eve (you can even pick more than one)
Make your own pizzas.
Have a fondue party with this Melting Pot Cheese Fondue Copycat recipe. Don't forget to make chocolate fondue later!
Bake cookies to take to neighbors on Christmas Day.
Have a hot chocolate bar (syrups, candy canes, marshmallows, whipped cream, etc)
Decorate sugar cookies with a cookie decorating bar (frosting, sprinkles, candy, etc.)
Make gingerbread houses.
Have a family game night with treats.
Have the kids clean out all of their old toys to donate to charity.
Take a drive to look at Christmas lights and do this scavenger hunt.
Make "reindeer food" out of oatmeal, bird seed, confetti, sprinkles, and whatever else you want. Let the kids sprinkle it in the yard.
If you don't have a fireplace, hang a "magic key" on the front door knob for Santa to get in.
Let the kids open a box with a new Christmas movie, microwave popcorn, and hot chocolate packets.
Wrap up a new pair of pajamas for the kids to open on Christmas Eve.
Give the kids a brand-new Christmas book to unwrap before bed.
Read the Christmas story in the bible.
Watch some Christmas Nativity videos like this one HERE.
Act out the Nativity.
Track Santa's flight HERE.
Let the kids have a slumber party on the floor. Maybe even put up a tent.
After the kids go to bed, tape red crepe paper over their bedroom door(s) so they can bust through in the morning.

Article by: Kim Danger, MommySavers.com
http://mommysavers.com/20-frugal-christmas-eve-traditions-fun-ideas-for-your-family/